The Western Provinces of TEC -
Click to enlarge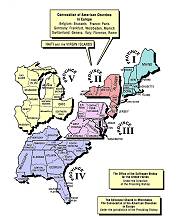 The Eastern Provinces of TEC -
Click to enlarge
MODERN SHIFTS
Presiding Bishop:
Until 1901, the Presiding Bishop was the senior most bishop in the House of Bishops.
▪

1901, The Presiding Bishop was the senior most bishop having jurisdiction. A committee recommended a change in the constitution to provide for election of the PB. It was passed.


▪

1904, the House of Bishops reversed itself.


▪

1907, the Deputies proposed a form for the election of the PB and Bishops concurred.


▪

1910, On the second vote, the Bishops failed to pass the amendment; Bishops proposed a different form of the idea, Deputies adopted it.


▪

1913, Deputies affirmed the previous action, but again the Bishops failed. A new proposal was put forward listing the duties of the PB; Deputies affirmed it.


▪

1916, On second reading, Bishops defeated it because there was no provision for a succession. This defect was corrected and a new proposal was adopted by both houses.


▪

1919, FINALLY, on second reading the proposal was adopted by both houses.
1943, General Convention enacted legislation to make it mandatory that the PB resign his jurisdiction within six months of being elected PB. Bishop George Tucker had been PB since 1938, and in 1944 resigned as Bp of VA. (There had been discussion of the creation of a See for the PB, one suggested being Arlington VA. But this never happened.) Since then all PBs have served without See.
Terms of office have changed from "until death" to 12 years, and now 9 years.
Age limits have moved from no limit, to 68 years, to 70 years.
Church Offices:
1894: Church occupied offices at 281 4th Avenue in NY
1960: Offices moved from 4th Avenue to 815, 2nd Avenue in NY
Bishops:
Assistant Bishops were elected and active before 1829, but a canon in that year made them official, although assistant bishops had the right of succession.
There were various attempts to make them "suffragans" but they failed.
1910: suffragans were authorized, but only on the initiative of the diocesan, and no more than two were allowed per diocese.
▪ Suffragans could run for bishop, bishop coadjutor, or be selected as missionary bishops.
▪ Suffragans were denied a vote in the House of Bishops until 1946.
Church Structure:
The Domestic and Foreign Missionary Society went through many changes over the years
There were various boards (General Board of Religious Education, Joint Commission on Social Service, and the Board of Missions) which were largely independent, though they reported to the General Convention.
These worked together to produce a new canon restructuring the way they worked together: that was passed in 1919, and marked a great centralization of the Church.
This new body was called "Presiding Bishop and Council" and it consolidated the formally independent bodies. The Council was made up of 4 bishops, 4 presbyters and 8 laymen.
The new structure was able to enlist some first rate business leaders in helping to structure and staff the new organization. Eventually, this became known as the National Council (1922), and today the Executive Council.
This move resulted in a dramatic change in self-understanding: More centralization People began to speak of the "National Church" (properly only a "General Church")
Church Pension Fund:
A Church Pension Fund was organized in 1853, but due to the war and general indifference, did almost nothing to help clergy.
By 1910, there were numerous independent societies, some with rules, some not, administering relief to retired clergy.
In 1910, Bishop Lawrence proposed to General Convention a sound system of clergy pension care, based on 3 principles:
a) exclusive system for the whole church
b) that annual assessment be scientifically (actuarially) calculated
c) there must be a start-up fund of substance
Bishop Lawrence chaired the committee to design the pension fund.
1913: General Convention adopted the plan and the Church Pension Fund became a reality.
POST WORLD WAR II
In general, the pace of Church life picked up following World War II. Organizational changes long in the making settled down.
There was a basic optimism that characterized the early years
Enlarging families demanded new homes
New communities – suburbs – began to grow
Automobiles made mobility, growth and choice more apparent and effective
Large numbers of children increased the need and attention to Christian education
Seminaries were robust – and a new seminary was added at Austin in 1951
a) Students in seminary in 1947 were 508
b) Students in seminary in 1950 were 1043
For the first time, there were numbers of ordained clergy equal to the numbers of parishes
The Decades:
1950s
Characterized by burgeoning growth and Church planting
Predominant theology - neo-orthodoxy
Development of the Church's Teaching Series
Development of the "Seabury Plan" for Sunday Schools - community centered
Consecration of James Pike as Coadjutor of California
1960s
Characterized by racial strife and work toward desegregation;
Later in the decade, anti-Vietnam-war demonstrations
Expression of "radical theologians" -


▪

"The Secular Meaning of the Gospel" 1963 - Paul van Buren (died 1998)


▪

"Death of God theology"


▪

"Honest to God" 1963 - John A. T. Robinson


▪

"Situation Ethics" 1966 - Joseph Fletcher - (see also)


▪

The James Pike affair - 1966 heresy trial
1970s
Characterized by internal strife over Prayer Book revision and women's ordination
Over 30 church bodies claiming the name Anglican split away, largely during this period
1979: First efforts at changing the Church's teaching on sexuality
On a positive note: Renewal movements (Cursillo, Marriage Encounter, Faith Alive) grow and youth work expands
1980s
Characterized by a vision of the Church "with no outcasts" – Edmund Browning
An analysis showed that ECUSA ranked 4th among 18 major denominations (predominantly white) in black membership (5%)
PB John Allin had radically increased the numbers of African American persons on the National level, including his own staff
10 black bishops had been ordained in the 80s
Ironically, by 1995 the numbers of African Americans in prominent leadership roles under Browning decreased by 75% and only one Bishop elected for a domestic diocese by 1998.
(Harold T Lewis described this change as due to Browning's service outside the US and his advocacy of other issues. Pritchard, p. 297)
New Hymnal - 1982 - first since 1940
1990s
Sharp Church disputes over sexuality, somewhat less disputes over "racism";
This was supposed to be the Decade of Evangelism (1988 Lambeth Conference), but only growth in the South and Southeast
House of Bishops issues a "Pastoral Study Document" in 1994 after much debate over the process that was supposed to result in a new "Pastoral Teaching"


▪

110 bishops sign a document known as "The Affirmation" (Bishop Stanton)
affirming the historic teaching of the Church;


▪

52 bishops sign the "Statement of Koinonia" authored by Bishop Spong;
Pastoral Study passed with an enacting resolution reaffirming the teaching of the Church on marriage Lambeth Conference of 1998 -
&

▪

organizational shifts giving authority to the Council of Primates


▪

Clear teaching on sexuality
Women and ministry:
Oddly enough, the impulse and greatest support for women in active ministry came from the Evangelicals and Anglo Catholics:
Religious Orders for Women began in 1845 In the mid 19th century, a rapid increase in demand for social outreach in the Churches, particularly in eastern cities, led to the recruitment of women for the deaconate – called deaconesses.
The idea had come from England where there was a revival of interest in this biblical "office"
With Bp Whittingham of MD, a work was begun in 1855 to train women for diaconal work in hospitals – St. Andrew's Infirmary being the first such experiment
Bp Wilmer of Alabama established an orphanage with deaconesses.
Bp Littlejohn of Long Island "ordained" 7 women
A canon authorizing a female deaconate was adopted in 1889: a) devout b) unmarried c) communicant 25 years of age or older d) recommendation of two presbyters and 12 laypersons
Deaconnesses worked with the poor and sick, engaged in religious education, could be given special assignments by the bishop
Schools were established in NY, PA, and CA
After WWII, the changing nature of church life saw changes with respect to the deaconesses: fewer were now needed.
1949, the Association of Professional Women Church Workers was formed. Women came to play an important role as Christian Education Directors in the years that followed, with special programs developed for them.
From the late 40s the first women professors were brought into the Seminaries, usually to teach Christian Education.
1970: The General Convention approved women to be seated as deputies. The same Convention eliminated requirement and pension distinctions between male and female deacons.
1971: Formation of the Episcopal Women's Caucus
1973: General Convention fails to enact legislation leading to the ordination of women.
1974: 3 retired bishops ordained 11 women deacons, to the Priesthood in Philadelphia
1976: Church canons were changed to permit the ordination of women.
1989: Barbara Clementine Harris was the first woman consecrated as a bishop in ECUSA – she served as suffragans of MA
1993: Mary Adelia McLeod was the first woman consecrated to serve as Diocesan – she served in VT

Sketches of Leadership: