Admission of the States:
1787: Delaware Pennsylvania, New Jersey.
1788: Georgia, Connecticut, Massachusetts, Maryland, South Carolina, New Hampshire, Virginia, New York.
1789: North Carolina.
1790s:: Rhode Island, Vermont, Kentucky, Tennesse.
1803: Ohio.
1810s: Louisiana, Indiana, Mississppi, Illinois, Alabama.
1820s: Maine, Missouri.
1830s: Arkansas, Michigan.
1840s: Florida, Texas, Iowa, Wisconsin.
1850s: California, Minnesota, Oregon.
EXPANSION OF THE UNITED STATES to 1860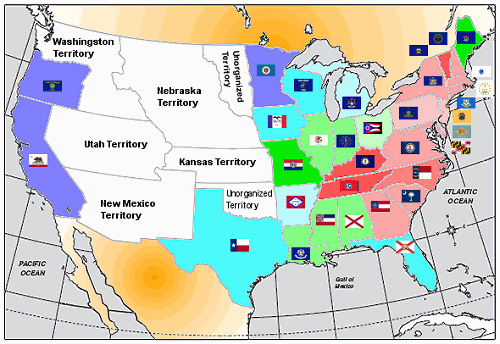 The period following the organization of the Church was less than exciting.
A long and wearying war caused people to turn inward.
The Episcopal Churches found that they had to rely on themselves for self-support: "They had to learn for the first time that if they did not contribute to the upkeep their church buildings and to the salaries of their ministers, nobody was going to do it for them." (Addison, p. 77)
Even with three bishops now in the US – the minimum number for consecrating new bishops (Nicea) – they moved very slowly:
a) White did not believe he could consecrate along with Seabury – the Archbishop would have to give permission, he thought, and though sought, such permission was never given. (The problem was that only White and Provoost were ordained by the English – Seabury by the Scottish – and it was not clear to White that the English would regard Seabury as valid.)
b) James Madison was ordained in England in 1790, so now there were three – and White convinced Provoost to participate in the consecration (with Seabury) of Thomas Claggett in 1792. But the animosity of Provoost toward Seabury meant that few consecrations could take place.
Episcopal derogation – the Bishops did not see themselves as missionaries and so did not act as missionaries! In 1790 there were four bishops. By 1810 there were only six!
a) Wm White was "a saint, a scholar, and a diplomat" (Addison) but had no energy beyond the care of his own parish, Christ Church – never visited the congregations in the western part of his diocese (state).
b) Provoost turned to botany; retired in 1801!

c) James Madison concentrated on being President of the College of William and Mary
Typical bishop activities: preside at Diocesan Conventions and occasionally ordain clergy. Only Seabury seems to have taken the importance of the Episcopacy seriously: he made parish visitations (most did not); and he emphasized the importance of Confirmation (most did not) and catechetical instruction; he addressed pastoral letters to his clergy (most did not). Most spent their time in the parish or other institution (college) that paid their salaries.
Factors adversely affecting missionary expansion:
Bishops had to "tread lightly" – widespread suspicion largely kept bishops from exercising much authority or aggressiveness in mission – a concern for "symptoms of prelacy" (Addison)
Lateness in coming to the matter – 1835! Methodists, Baptists and Presbyterians were more proactive
Dioceses of unmanageable size
Lack of financial support In 1876, the Church provided only $4,000 for missionary work.; by comparison, that was 1/7th the amount spent by Presbyterians in Kansas alone in that year! (1/15th of what the Methodists spent!)
Lack of prepared missionaries: in 1840 the Baptists had as many clergy in Missouri as the Episcopalians had in the whole of the West.
The General Convention:
These were very poorly attended and poorly organized between 1789 and 1835:
SC sent no representatives between 1795 and 1814
VA sent no deputies to the first four Conventions of 19th century
Mass had a bishop for only six years between 1789 and 1811
New Jersey, organized in 1785, had no bishop for 30 years!
DE, organized in 1786, had no bishop until 1841!
NC organized only in 1817
GA organized in 1823
1792: General Convention authorized a plan for missionary expansion, involving a Standing Committee with Bishop White as chair, who did little or nothing about missions. The project involved raising funds and even promoting missionary interest among the parishes. But it was abandoned in 1795, and the Church would not again address missionary activity for thirteen years.
The Great Awakening had come and gone and in its wake many denominations had formed Missionary Societies; in 1808, General Convention again passed a resolution asking this time for a plan to provide missionary bishops. Again, White and Madison were entrusted with this project. Madison died in 1812 and White reported in 1814 that that had "arrested further progress."
THERE SIMPLY WAS NO ENERGY OR DEDICATION FOR MISSIONARY EXPANSION and the General Convention was ill-equipped to provide any.
Christian Education:
A general interest in education began in the early 19th century, largely through voluntary societies:
The Rev. John Henry Hobart, Rector of Trinity Church NY began the PE Theological Education Society and various tract societies
The Sunday School movement began in England in 1780, intended to teach poor children to read and write.
William White visited this school (in Gloucester) in 1787 while in England for his consecration!
The First Day Society was begun by Dr. Benjamin Rush and Bishop White in Philadelphia in 1791 and Bp White was the first President of the Board; its purpose was to promote education (principally reading) on the first day of the week. Note: Most children worked six days, so Sunday was their day off. This resulted in children (and adults) wasting this day in gaming, drinking (average consumption of alcohol was alarming, even among the young!), etc.
In 9 years, the FDS enrolled about 2200 students!
Sunday Schools began to spread, slowly. They took off, however, only after 1814.
In the meantime, governments in the States began to recognize the importance of education, following the lead of the Churches. (Only New England had public schools at the time.) As children began more and more to spend five days a week in school, Sunday Schools became less important.
Theological Education:
William White had put together the Course of Ecclesiastical Studies, a kind of reading list for those interested in pursuing and preparing for ordained ministry; most of those so interested read for ordination under a mentor – either a priest or a divinity professor. (Laid emphasis on the 39 Articles).
Andover Seminary, established by the Congregationalists in 1808, was the first 3-year institution set aside for the training of clergy (prompted by the unitarianism of Harvard's professor of divinity). This became the model for other efforts, especially in the Episcopal Church.
The General Theologial Seminary opened in 1822 (land donated by Clement Clarke Moore – A Visit from St. Nicholas);
Virginia Theological Seminary in 1823;
Kenyon College, Ohio, opened a school, to be called Bexley Hall in 1824.
The efforts at Theological Education reflected deep differences in theological outlook:
General took on the shape of the "high-church" party (Hobart), while
Virginia took on the shape of the "evangelical" party (Wilmer, Meade, Griswold).
NOTE:
High Church = emphasized the distinct Anglican heritage as compared with other Protestants – apostolic succession, importance of baptismal regeneration, a general high regard for the sacraments, and a sense of the Church as critical to God's plan of salvation;
Low-Church, or Evangelical: emphasis on preaching, teaching, formation, and renewal of the Christian life; saw similarities between the Anglican (Episcopal) tradition and other Christian (Protestant) churches; had a missionary impetus – (though Hobart, a High-churchman was as "missionary minded" as they come!)
Sketches of Missionary Leadership:
Foreign and Domestic Missionary Society 1835:
This was a watershed in the life of the Episcopal Church The General Convention had formed a Missionary Society earlier, but conceived it in terms of a voluntary society within the Church (as in England)
The Convention of 1835 made the Church as such a missionary society
It also declared that the "missionary field is to be regarded as one – the world"
The immediate effect of this was a dramatic increase in funding for missionary efforts
It also provided for the creation of missionary bishops – bishops called by the church for missionary work, rather than called for the church in a Diocese.
Attractive advantages of the Episcopal Churches:
Rising affluence in western areas – the solidity and stability of the Episcopal Churches appealed to the newly affluent
Revolt against Calvinist orthodoxy – in the East, Calvinism was becoming more repressive.
Persons moved West to experience more freedom – and the Episcopal Church (Arminian) was appealing.
Imponderables: toleration of alcohol, dancing, Masonic membership, theological comprehensiveness.
Claims of antiquity attracted many with the rise of romanticism. "When an Episcopal Church was established, many western towns believed they had arrived." (Holmes, p. 67)
Reaction against emotionalism (Methodists, Quakers), or language-specific traditions (Lutheranism).
The Roman Catholic Church was even later expanding into the West and many of that background welcomed the Episcopal Church.
Missionary methods:
distribution of Bibles, tracts, devotional books, Books of Common Prayer
establishment of libraries and reading rooms schools: primary, secondary and Sunday Schools
establishment of hospitals
establishment of theological schools and colleges (e.g., Kenyon College and Bexley Hall, Philander Chase)
itinerancy: one missionary priest would serve many stations; in N. Dakota, Bishop William Walker used a 60 ft Pullman Car as a traveling chapel – sometimes doubling the size of towns where he would appear. associations: clergy would hold preaching missions in towns especially in the south for several days, with several services a day. These would build up a community of worshippers
Bishop's visitations: widely publicized would draw many people in western towns.
Growth:
The General Convention of 1792 reported 180 active congregations.
The General Convention of 1820 reported approximately 400 congregations.
The General Convention of 1859 reported 2120 parishes.
The General Convention of 1886 reported 4338 church buildings and 2072 mission stations. More than 422,000 communicants.